By looking at a variety of illustrators and illustrations styles it has influenced me to go down the route of creating a doodle style mural for YO! sushi.
This means I can use my own illustration style mixed with that of others that I have analysed. This will give the mural character, but also be aesthetical pleasing to look at.
The illustrators I will be taking influence from for my mural are
Matei Apostolescu
and Jon Burgerman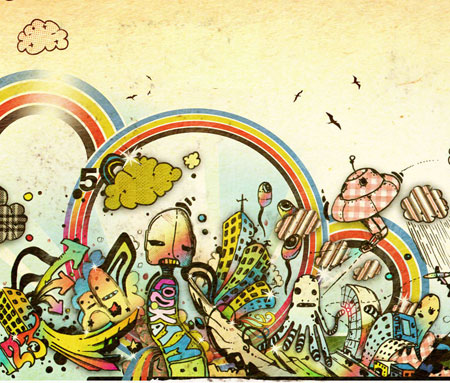 From Matei Apostolescu, I will be incorporating the obscure shapes and random images in some way into my mural.
As I really liked the style and the effect it produced with both these aspects merged together.
It's an urban style which fits in well with the London lifestyle. I can see this as a piece of graffiti art on a wall in London.
From Jon Burgerman, I will be incorporating the doodle style and the crowding of the images into my mural.
As I thought that a doodle style maybe easier to produce, because if by chance I was to make a mistake it could easily be made into something else.
The mural will also incorporate the crowding of London as a city through the crowding of the illustrations. It's a subliminal message that i feel would have a good effect.
I also like the fact that doing the illustration by hand makes it more personal, than a neat vector would. Even though the vector would be produce by me, it wouldn't have the same flare as an illustration would have, as I don't feel confident enough to produce a vector image.
The mural will obviously be portraying iconic images of London, therefore I will be merging both illustration styles together (not the images from both illustrators) to create something that is unique.